1 Kings 3:1-3 Solomon makes a successful alliance with his superpower neighbour, Egypt, by marrying the daughter of the pharaoh - probably Pharaoh Horemheb. As Solomon's senior wife, she lives in the City of David until Solomon builds a palace for her just outside the newly extended walls of Jerusalem to the north of Mount Moriah (see 1 on Map 57, 1 Kings 7:8 & 2 Chronicles 8:11).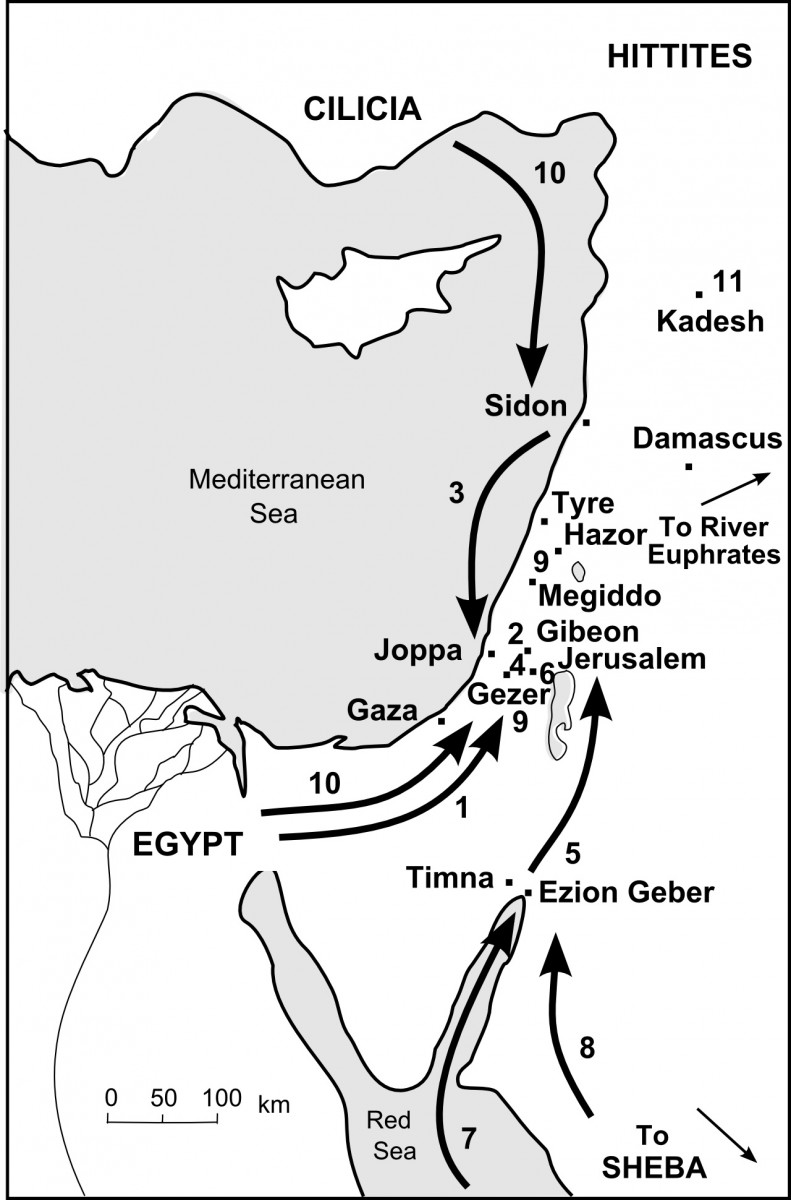 Map 57 Supplying Solomon's Kingdom
Solomon's Egyptian Queen
The marriage between Solomon and the pharaoh's daughter was a political alliance enacted to confirm the powerful support of Egypt. Solomon found it expedient to build a separate palace for his new queen so that her religious beliefs and practices would not be seen by his own people to ritually 'pollute' the city where the Ark of the Covenant, representing the dwelling place of the LORD, had been brought by his father David.
Excavations in 1882, on higher land beside the Nablus road to the north of the Damascus Gate (near the École Biblique and the Monastery of St Etienne), revealed evidence of an Egyptian 'quarter', dating from the time of Solomon, just to the north of the present (medieval) city walls.
This area probably contained a palace for Solomon's Egyptian queen and her retinue, together with a temple for the Egyptian court to worship the sun-god Ra. Stone tombs were cut into the rocks to carry the bodies of Solomon's queen and her attendants. The site of the Egyptian queen's palace now lies underneath the nave of the Church of St Etienne.
1 Kings 3:4-15 Solomon goes to offer sacrifices to God on the altar at Gibeon (see 2 on Map 57). The LORD appears to Solomon in a dream and asks him what gift he would like God to bestow on him. Instead of asking for wealth or long life, Solomon requests a wise and discerning heart to rule his people in keeping with the LORD's will. God grants his wish and the 'wisdom of Solomon' becomes well known throughout the world.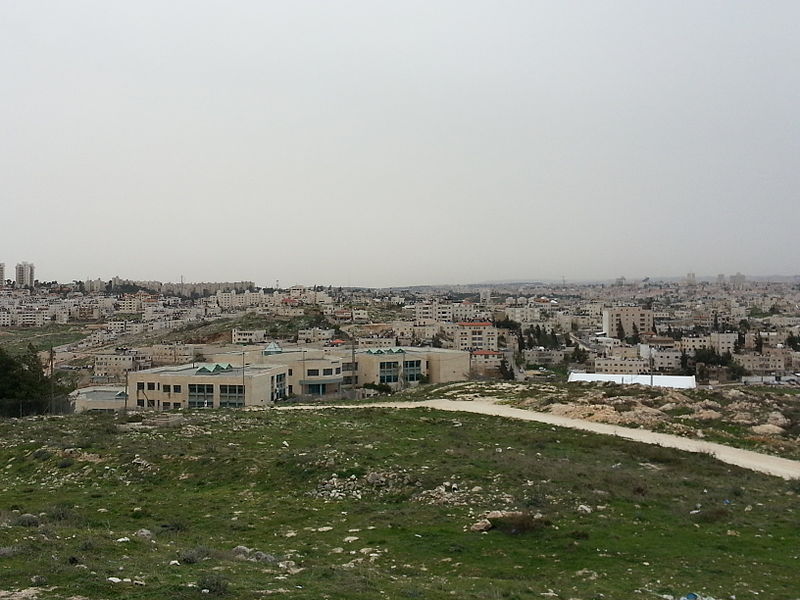 View towards Jerusalem from the site of Gibeah
1 Kings 3:16-28 Solomon's wisdom is shown when two prostitutes both claim the same baby. Solomon threatens to cut the child in half, but the true mother immediately offers to give her child away rather than see her son injured.
1 Kings 4:1-19 Solomon appoints twelve district governors to provide food for the royal household. Judah (Solomon's tribe) is given special treatment.
1 Kings 4:20-28 Solomon's kingdom (with neighbouring states who pay tribute) now stretches from the River Euphrates in the east to Gaza on the border with Egypt.
1 Kings 4:29-34 Solomon's fame spreads to all the surrounding nations. Men from all over the known world come to listen to Solomon's wisdom.